PKF Virtual Vac Week
PKF South Africa hosted a virtual vac week in July 2021. Missed it? See what it was all about here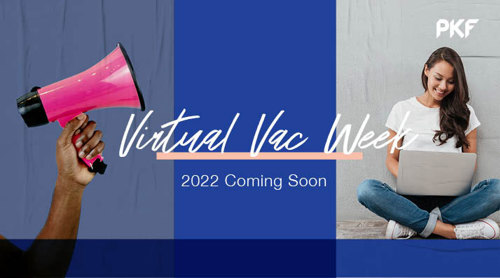 Date
The virtual vac week took place over 4 days, from 26 to 29 July 2021.
Time
Each day students joined us for 2 hours, from 09:00 - 11:00 to Experience PKF
Location
The entire virtual vac week took place over ZOOM and included a live Q&A session after each day.
Agenda
The virtual vac week agenda included four days of all things PKF. See agenda below:
Certificate
Certificate of Completion given after event
Audience
Currently studying third- or fourth-year students
Requirements
SAICA students only
Results
The PKF South Africa Virtual Vac Week was a huge success. The students loved every minute and was intrigued by what PKF has to offer potential trainees completing their articles towards becoming a CA(SA).
The vac week ended in speed interviews, where each firm's recruitment manager could personally meet attendees. Over 70% of the speed interviews ended in actual traineeship interviews with the respected firm.
Testimonials
"It was a very enlightening experience and provided a lot of insight into auditing and how PKF works."
"Very interesting and a good showcase of the firm."
"I love you guys and your culture."